I've been wanting to start a blog for some time. Finding the right topic for that first groundbreaking blog post is tough. After I finished the photos from this particular wedding, I knew this would be the one to get the ball rolling. Let's set the scene:
Summer 2002. I was out of high school and idling my way through college. I had been dabbling in video editing but only on very basic stuff. My good friend Corey Kloos was big into movies and theater. One night, on AOL instant messenger (don't laugh, it was 2002) he messaged me with an idea for a vampire movie. We talked about ideas for a while and both started getting excited that we bandaged together this loose plot for a short movie. Being in our teens, we had infinite energy. So at some hour nearing midnight, we set out to Missouri Bottoms Road to film our ideas. Of course a few phone calls were made and my Jeep Cherokee was full of friends.
Just practicing with lighting and framing, we put together a quick little fight scene. My brother, Ryan, played Gabriel. The Vampire Hunter. Corey was his arch nemesis Deacon. Well at this point they didn't have official names, but creative evolution soon brought the details out. With some creative in-camera editing, a couple perfectly timed whip-pans, and black and white video for days, we headed back to my parents house at about 3:30 am to see what we filmed.
We popped in the Hi8 tape to the TV. What came next I'm sure scared my parents so bad, they either thought a plane landed on the house, or a tornado was rolling through. By sheer luck and skill, the video was amazing. For zero editing on the computer, the short little 5 minute fight scene was the equivalent to our own "Godfather". We shrieked and hollered in amazement at what we created literally on a whim. We knew right then and there we had to make something out of this.
The following year we filmed off and on. Some scenes you could see their breath because it was cold. Other scenes they were drenched in sweat because it was sweltering. Writing the script as we went, the movie began to take shape. We mostly filmed in the old St. Ferdinand cemetery since it didn't have closing hours. Many of Florissant's finest stopped in to see what we were doing. Never once did we get chased off, though. With a camera on a tripod, costumes and politeness we talked and joked with the officers. After about a year of filming, we had one of the final scenes to do.
This scene was mostly quiet talking, however, at the crescendo, Corey yells in a deep vampire-y voice "WHY HAVEN'T YOU DIED?" Needless to say, after about the 3rd take, at 2am, the alleyway was quickly flooded with red and blue lights at both ends. Corey and Ryan were both covered in blood. The samurai sword and pellet gun were quickly kicked into a pile of leaves. I quickly began saying we're just filming a movie. Then just in the nick of time, one of the officers walks out and says something to the effect, "You guys are a bunch of idiots." Lucky for us, one of the responding officers was a good friend of my mom's growing up and we knew him well. After some nervous laughter, we come to find out, one of the officers was pretty shaken up at the "bloody" scene and had his hand on his firearm. Dodged a bullet in the most serious of ways that night.
If you're a fan of cheesy vampire flicks, I definitely suggest giving our movie a watching.
Once we finished up Vampire, Corey and I have been pretty in sync creatively. Which is why I was so excited that he and Em asked me to shoot their wedding. When he asked, I hadn't met Em, yet. But I had a feeling, if she loved Corey, she was going to be an awesome gal. I'm happy to say, I've never been more right. I decided the best way to get to know Em, and how the two interact, was to shoot an engagement session. This helps on several levels. One, I get to know the bride and groom. (Obviously, I already know Corey) I get to chit chat and ask questions about how they met, what they like to do, just basic small talk. But it really helps to connect with them. And Two, it gives me a feel for how they will pose and interact on their wedding day. Should I go with kissy face pictures, are they good with PDA, or should it be more fun poses. Holding hands, walking that sort of thing. Though this engagement session took on a life of its own.
Brainstorming ideas, I knew Corey wouldn't want a field of flowers. Definitely not his style. I threw out the idea of doing a night time session. As in dark out. Late night. The response was a resounding "F#&K YES!" Fortunately, Em (being the cool gal that she is) was also totally on board. Now the tricky part, there's not going to be much by way of background for a night session, I had to think of a theme.
Since they're both into theater and movies, I pitched doing an Army of Darkness/Evil Dead themed engagement session.
FREAKING NAILED IT!
Corey was beyond excited. And the best part? Em was, too! We picked a date and I found a location. An old abandoned house off Highway 79. At least we thought it was abandoned...
A couple days before the shoot, Corey and Em came up with the idea to meet at sunset and do a few shots in the style of Princess Bride. HECK YES! I was totally on board. We met at the house just before sunset, they both got into costume and we got to work.
Are you guys seeing this? I mean, who could have asked for a better sunset? Here is the inspiration for the photos...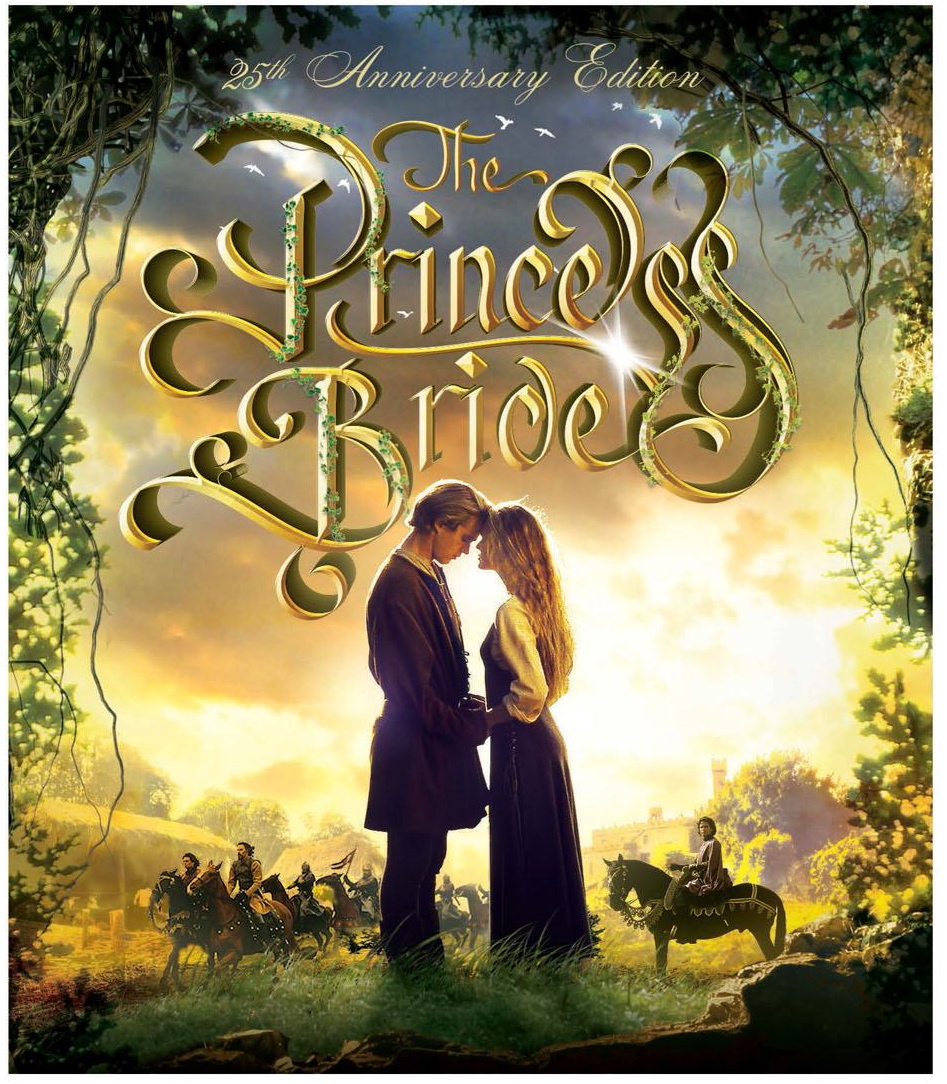 I'm pretty sure we had darn near the exact same sunset. After taking these photos, a truck came rambling down the driveway. Busted. The property owner quickly ushered us out. Just like with the Police while filming Vampire, we were polite and apologized, and quickly went on our way.
Was this the end of our over-the-top engagement session? Are you new here? Have you read the part about us making a movie? There's no stopping the creative force that is Justin and Corey, and now Em!!! A quick phone call to Corey's brother and we were granted access to his neighbor's property. As we drove onto the property, it was a good thing I was in my own car because they ear piercing "OH MY GAWD!" could have awaken then dead. This place had a turn of the century log cabin, a creepy chicken coop and a barn with a huge grain silo. The. Perfect. Setting!
With guns and chainsaw and hatchet in hand, and costumes adorned, we started. I think I'll let the pictures speak for themselves.
Absolutely amazing. These two were meant for each other. And of course, we had to have a throwback to the Vampire genre...
After finishing their engagement session, I could not wait for their wedding. With the amount of fun and creativity we had flowing that night, I knew their wedding was going to be so awesome. To be continued...